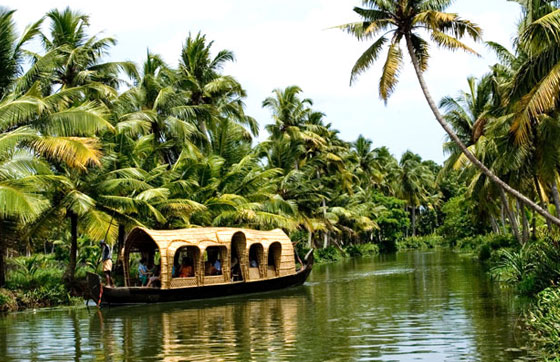 Champakara (Ayurvedic Centre)
Champakara is 18 kms from Kottayam, which is a significant Ayurvedic Centre for 'Thirummuchikilsa'. Sreerangam CVN Kalari Chikilsa Kendram attracts tourist from all over India and abroad.
Kumarakom Bird Sanctuary
12 kms west of Kottayam town is this small village Kumarakom, which has a stunning bird sanctuary on the banks of the Vembanad Lake and is an idyllic place for backwater cruises. The 14-acre sanctuary is an ornithologist's heaven and a favorite haunt of migratory birds like Siberian stork, Egret darter, Heron and Teal. There are also different varieties of local birds like waterfowl, wild duck, cuckoo, owl, water ducketc. The sanctuary is open from 10.00 am to 6.00 pm and the best months to bird watch are between June and August. Near to the sanctuary, in the beautifully wooded ground near the backwaters, is coconut lagoon heritage resort, which is one of India's most discrete holiday destinations. Guests stay in genuine 'Tharawad' (traditional wooden) cottages and adore this unique culture.
Grampi hill station
The charming hill station of Grampi is situated 5 kms from Peerumade is also known as the Parunthupara, meaning the eagle rock.
Ilaveezhapoonchira
The place is situated at distance of 55 kms from Kottayam and 20 kms from Thodapuzha, this is another picnic spot located in the midst of the gorgeous hillocks near Kanjar.
Pala and Kanjirapally (Rubber Plantations)
Nourished by the Meenachil and Aanimala rivers respectively, these two places are centers of Rubber Plantations.
Kesari Waterfalls
The Kesari waterfalls, also known as Valanjamkanam falls, lies between Kuttikanam and Murinjapuzha on the Kottayam-Kumaly Road. Valanjamkanam is a 3 hr. drive from Kottayam by any bus to Kumaly; trek to Kuttikanan offers added adventurous spirit and proximity to nature.
Maramala Waterfalls
This lies a few kms away from Eerattupetta. It is exactly 7 kms from Teekoy rubber estate. From here a private vehicle can take you further 2 kms after which the road is not motor able. To reach the falls one has to trek through the estate over the rocky path. The cascade is about 60 metres in height, falling into a 12-meter deep pool and joins the River Teekoy way down.
Chandragiri Cruises
This offers boat cruises to the nearby islands and palm grove. The boarding point is Chandragiri Bridge and nearby, there is a mosque and the ancient Kizhur Sartha Temple.
Ayyampara
The place is 43 kms from Kottayam, this is a well famous picturesque spot of rocky plains, where a 100 acres of flat rock makes a natural granite stadium to enjoy the sunset and the vision of the town below. It is a good place for trekking.
Elaveezhapoonchira (mountains)
Elaveezhapoonchira, shaped of imposing mountain ranges with rocky cliffs is on the eastern margin of Kottayam district. It is a fine-looking vacation spot, reachable from Pala, situated in the center of hillocks. About 3000 feet above sea lever, the immaculate beauty of nature is potted almost intact here. There is also a famed ancient mosque at Thazhathanangady near Thalikotta Palace, which attracts many devotees.
Koottickal
Koottickal is situated in the Western Ghats, 5 kms north of Mundakayam in Kottayam district. The magnificence of the mountain ranges joint with the beauty of the forest and the artificial lake shaped by the check dam of the River Manimala creates the spot linger in ones mind. Amruthameda, which is popular for medicinal plants, is close by. Koottickal is well associated by roads to the major cities. The waterfall at Vadakkemala, near Kootickal is another attraction.
Panchalimedu
Located 7 kms from Mundakkayam – Kuttikanam stretch on the Kottayam – Kumali road, lies Panchalimedu at a height of about 2500 feet above sea level. A 3-hour trek from Valliankavu, also linked by bus service from Kottayam. According to mythology, the Pandavas had stayed here and the pond next to a small temple is where Panchali, their wife is said to have had bath.
Wagamon (Trekker's Paradise)
Located at an altitude of 1100 metres above sea level, Wagamon is known as the trekker's paradise because it is an ultimate place for trekking and a striking tourist spot bounded by the greenery of tea plantations, meadows, valleys and dales. It is about 60 km from Kottayam. The other magnetism of this place is Kurisumala, a sky-scraping mountain with a small church on its peak. There is also a monastery on this hill, called Kurisumala Ashramam, which has a small community of ascetics who follow Christian faith but combines with it the Indian spiritual civilization and Gandhian thoughts. People of all faith are welcome to visit this place.
Vembanad Lake
Vemanad Lake is 16 kms from Kottayam town, is a vast network of rivers and canals, which empty into the great expanse of water called. It is situated in Kumarakom village. The lake is a charming holiday spot and a fast mounting backwater tourist destination. It provides boating, fishing and sight seeing experiences that are truly exciting. The Kumarakom tourist town also offers houseboat cruises and holiday packages.