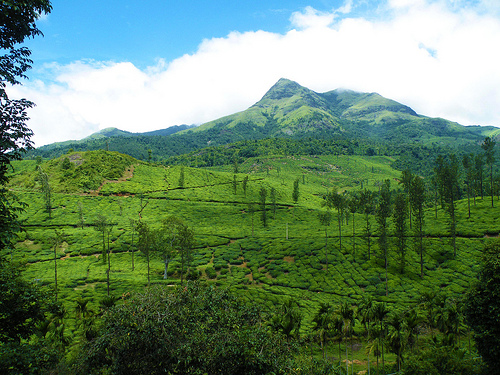 Kalpetta
Kalpetta, is the only municipality in this hilly area which is the district headquarters of Wayanad. The town has hotels, bars, restaurants and shops, making it a convenient base to visit this place while at the same time take pleasure in these facilities.

Meenmutty falls
Meenmutty is the largest and fabulous waterfall in Wayanad. It is an inspiring 2 km jungle trek off the main Ooty road.
Chembra peak
Chembra is the highest peak in Wayanad at 2100 mts above mean sea level is ideal for trekking. Hiking this peak is a challenging mountaineering Endeavour and would take a full day. The picturesque beauty of Wayanad, which is noticeable from the top of Chembra, is very exhilarating. The adjacent areas offer outstanding photo opportunities. Camping on the peak is a remarkable experience. District Tourism Promotion Council provides guides, sleeping bags, canvases, huts and trekking implements on hire.
Neelimala
It is a View Point-Closer to Vaduvanchal, Neelimala is an outstanding venue for trekking with lots of exciting trails. The peak of this hill affords an immense view of the cascading Meenmutty falls and the stunning valley in its foreground.
Sentinal Rock Waterfalls
The place is located 22 kms south of Kalpetta near Chooralmala. Locally known as Soochippara is a much admired leisure destination. This is a three step waterfall more than 200 mts in height. Framed by charming panorama. This region is ideal for rock mountaineering. Soochipara can be reached by a picturesque 2 kms. Nature deer and other wildlife can be seen close to the waterfront.
Kanthanpara waterfalls
This is about 22 kms southeast of Kalpetta and 8 kms east of Meppadi, It is a fine-looking waterfall about 30 mts in height. Comparatively smaller than Sentinel Rock falls, and rather less frequented Kanthanpara and its environs offer a very pleasing site. An easy hike away from the main road, it is a perfect vacation spot.
Banasura sagar project
This place is about 21 kms northeast of Kalpetta situated at Padinjarathara. A mini hydel project with the biggest earth dam in India and the second largest in Asia is being built here. The Banasura project precincts are an ideal initial point for treks to the Banasura Peak. An attractive feature is a series of islands that were formed when the reservoir submerged the nearby areas.
Varambetta Mosque
The Mosque is located 15 kms southeast of Kalpetta, close to Padinjarathara: dating back 300 years, this is the oldest mosque in Wayanad.
Glass temple, Koottamundu
This temple is situated on the slopes of Vellarimala and is devoted to Parshwanatha Swami of the Jain faith. The mirrors inside the temple wall reflect an image of the icons in the temple's sanctum sanctorum.Permission is restricted now days.
Jain Temple at Puliyarmala
The Temple is 4 kms north of Kalpetta dedicated to Ananthanatha Swami, one of the most respected Jain Saint.
Sulthan Bathery
Sultan Bathery, also known as Sulthan's Battery lies about 25 kms. From Kalpetta. Connected with Hyder Ali and Tipu Sulthan, Sulthan's Bathery no longer has a fort. It is worth visiting for the Jain temple, which has some fascinating stone carvings. Sulthan Bathery can be seen on a drive from Kalpetta to Wayanad Wildlife Sanctuary, Muthanga.
Edakkal caves
The Caves are located 12 kms from Sulthan Bathery. 3 caves are located at an altitude of 1000 mts on Ambukuthi mala near Ambalavayal. The new Stone Age symbolic writings on the walls of these natural caves at Edakkal are the proof of the civilizations that existed in the regions in the ancient period. The caves can be accessed only by a 1Km trekking trail from Edakkal. Morning hours are the best time to visit these caves. Entry is permitted only upto 1700 hrs. An appealing trek up of the Ambukuthi Hill near Ambalavayal municipality takes you to this charming Neolithic cave site. Etchings found on the walls of these caves have drawn the serious attention of archeologists and historians worldwide. With at least three separate sets of petroglyphs, the earliest thought to date back over 3000 years, it is assumed that the Edakkal caves had been inhabited at different stages in history.

Chethalayam Falls
Chethalayam is one of Wayanad's smaller waterfalls. Its environs offer a number of vantage points for bird watching. It is also admired with trekking enthusiasts.
Muniyaras
Excavations at assorted points around the foot of the Ambukuthi Hill have unearthed a distinguishing series of ancient burial vaults commonly called Muniyaras. Remnants of Stone Age tools and pottery found within these cellars are displayed at the Wayanad Heritage Museum.


Muthanga
Wayanad wild life sanctuary, Muthanga is established in 1973, the Wayanad wild life sanctuary is contiguous to the sheltered area network of Nagarhole and Bandipur of Karnataka on the northeast and Muthumalai of TamilNadu on southeast. Well-off in bio-diversity, the sanctuary is an important part of the Nilgiri Biosphere Reserve, which has been established with the detailed objective of conserving the natural heritage of the area. The sanctuary is prosperous in flora and fauna. The organization lays emphasis on scientific protection with due consideration for the common life styles of tribals and others who live in and around the forest.The vegetation is mostly moist deciduous forest with small stretches of swamps, teak forests, bamboo and tall grass. Amidst such lush and varied flora, this region hosts a number of rare herbs and medicinal plants. With plentiful watering holes, Muthanga has a huge population of pachyderms, and has been affirmed a Project Elephant site. Also Jungle Cats, Panthers, Civet Cat, Monkeys, Wild dogs, Deer's, Spotted Bears, Bisons, Gaurs, Cheetah, Wild Bears, Peacock, Owls, Jungle fowls, Woodpeckers, Babblers, Cukoos etc.can be seen here. The reserve is also home to a small population of Tigers. The forest department arranges elephant rides.

Jain Temple
Jain Temple is generally known as Tippu's Fort, it is located in the town, which got its name from the historic fact that Tippu used this temple as his Battery (ammunition store) in the region. Hence the name "Sulthan's Battery". This temple is one of the most significant amongst series of ruins extend across the state of Kerala that testify to a period of a strong Jain presence in this area. Believed to have been built in the 13th century, it served as a Hindu shrine, an imperative centre for commercial activity and finally as a Battery.
Apart from Sulthan Bathery temple, there are further noteworthy Jain remnants in Wayanad. The temples at Punchavayal and Puthanangadi are the best known of these. With their marvelously carved pillars now partly ruined, and the region rather derelict, these sites give off an exacting air of mystery.
Seetha Lava Kusha Temple
This is the one and only temple devoted to Lava and Kusha, the sons of Lord Rama. Local legends connect this region with many imperative episodes from the Ramayana. As the favored shrine of the Pazhassi Raja, this temple has conventionally permitted entry to devotees from all faiths.
Thrissilery Shiva Temple
This eye-catching temple of perfect architectural proportions is inextricably linked with the Vishnu temple at Thirunelly. It is believed that the performance of ancestral rites at Thirunelly remain incomplete unless followed by donating at this temple. Within the premises, there is also a shrine devoted to Jala Durga, believed to have been installed by no less than the legendary Parasurama.
Manikavu Temple
This is the temple of Lord Shiva, near Choothupara, Meenangadi. The Shivling, seen here is Swayambhoo and the specialty is that water is poured incessantly over Shivling through a stream. The amount of water remains the same even in rainy season.