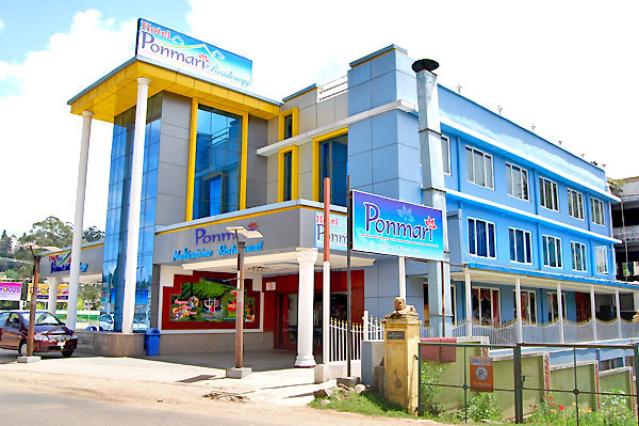 Modern elegance and classic style is what you get to see when you stay at Ponmari Residency Ooty. Ponmari residency is the result of a pioneer project well executed by the Ponmari Group.  The commercial property stands amidst ambience that's unique and sophisticated. The surroundings around the residency are elegant. Comparatively to the niche hotels in Ooty, Ponmari Residency Ooty too has left no stones unturned in offering hospitality service that a class apart.
At Ponmari Residency Ooty you will enjoy
Guests rooms that are spacious and beautiful set
All rooms are well equipped with modern amenities
Standards of quality is meticulously maintained along with stay experience that spells luxury
The accommodation facilities are well serviced and comprehensive
The Ponmari is located at an ideal location offering complete convenience to business travelers or weekend getaway planners to retreat to the historically styled Ponmari residency.
Ambience
Ponmari Residency is spacious and designed with elegance. The décor of the rooms are splendid and eye catching. Besides a high quality of luxury, utmost care has gone into providing you complete comfort when you stay.
Facilities and Tariff
Equipped to take care of your functions contemporary or traditional, the Ponmari Residency lives up-to your expectations beyond belief.
For meetings, banquets or small gatherings the Maris hall is
o   Equipped to take care of up-to 50 guests
o   The space is spectacular with for private parties or small gatherings
o   For business meetings the privacy is well maintained
o   Audio and visual services are well provided to suit the needs of business meetings
o   Social gatherings and custom theme are well catered to
o   Professional banquet and catering staff ready available at your disposal
o   Culinary requests tailored to suit your requirements.
Ponmari restaurant offers you a multicuisine dining restaurant with a fine dining experience and scrumptious menu.
o   Traditional South India food tops the menu card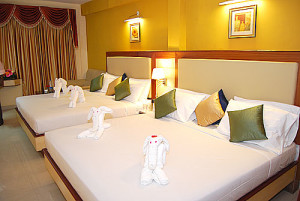 o   The restaurants ambience is natural and grand offering you a feeling of tasty food of home away from home.
o   Every meal prepared is served with utmost precision and appeal factor
o   Use of freshest ingredients and delicate flavors make the food special
o   Experts go out of their way to recommend the best dish that might appeal to your palate
o   South Indian, Chinese and continental flavors make the dining experience a memorable one and coupled with the scenic view of the Nilgiris, it's like a topping on the dessert
o   A dedicated chocolate shop for chocolate lovers within the hotel just reduces a chore for you. IF you've forgotten to pick souvenirs buy authentic Ooty chocolates from the Chocolate shop of Ponmari residency
Ponmari's Cheers bar offers you a selection of drinks to choose from. The melodious music and warm comfortable setting make you drinking experience a relaxed one. A collection of Indian and Foreign liquors will leave you spoilt with varieties. Shaking, stirring and innovative cocktails are just the right blend you need to liven up your evening
Ponmari offers a fitness center- " Body focus " that enables you to embrace a fitness regime and not run away from it.
o   Body focus offers you signature studios designed with chosen exercises to suit your body demands
o   High tech gadgets make the fitness center swanky
o   Individual membership plans are available
o   The fitness center also has special packages at special prices for women, students and couples.
o   All you need to do is check your level of dedication, endurance, strength and the Body focus staff will help you meet your goals.
Ponmari Ayurvedic massage center has brought to its guests the 3000 year old safe and effective ayurvedic treatments to offer you total rejuvenation and relief from chronic pains and beauty treatments.
o   Massages are performed by reputed and experienced therapists
o   Relives you from pain, stiffness and more
o   Some beauty related ayurvedic treatments too are available to beautify you
o   Supervised and operated by a well reputed ayurvedic doctor
o   Duration of the treatment depends on the recommendations made by the doctor
The rooms in Ponmari Residency Ooty are well equipped to take care of family or individual guests. You can choose to stay in as per your requirement in
o   Royal suite comprising of Bed room and living room with a view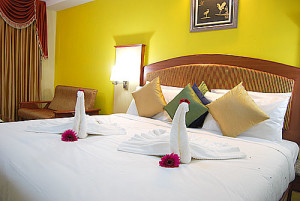 o   Royal family rooms
o   Royal honey suites (recommended for honeymooners)
o   Royal deluxe
Different room have been differently done and equipped accordingly with LCDS, dressing mirror, sofa and tea-poi
Tariff of the rooms are absolutely in par with any niche residency in Ooty.
o   The residency is often running combos to pamper its guests
o   You can avail off season discounts
o   Or complimentary Ayurveda treatments
Welcoming you with a warm smile and open hands when you reach Ponmari Residency Ooty you sure enter a warm and well set lobby from where you are escorted to your rooms by the diligent housekeeping and hospitality staff. Ponmari residency is where you can head to for a relaxed and enthralling stay experience.