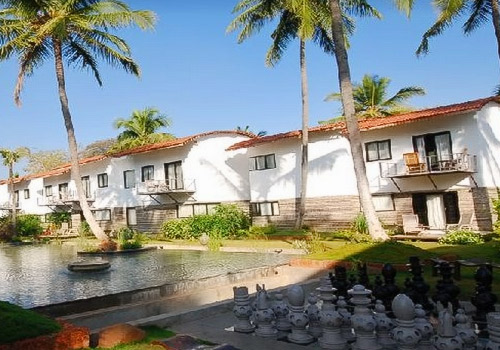 A land of architecture, artistic gardens, historical structures and past glories- Mysore is a land of great kings and warriors who once ruled the kingdom. India's second greenest city, Mysore attracts several tourists from across the globe to visit its glorious past, awe inspiring artistry and monuments. Mysore is home to not just these but alternative living, existence and ritualistic healing. It is bearing all of these aspects in mind is where the need for a place to provide accommodation for guests visiting from different corners of the world becomes imperative and there are only few other places other than the "Wind Flower Resorts & Spa Mysore" that can cater to this aspect.
Accommodation & Facilities of Wind Flower Resorts & Spa Mysore
39 rooms make you feel like you are prince and princesses residing in a palace. Picture yourself watching a beautiful romantic evening view and retreating to your palatial bed or taking a before dip in the pool and returning to a cozy bed- that's the experience the rooms at windflower will help you have. You can choose to stay in
Windflower villa- Ideal for a family or small group, the villas are beautifully done with Balinese interiors. This club class accommodation has its own rain shower and private sit out to stretch and relax.
Windflower Suite- Equally ideal for family or small group, the suite too is packed with entertainments factors. The oriental interiors are adorable and captivating. Also available with a sit out and rain shower, the Suite too offers you complete luxury and stylish accommodation
Windflower Premium studio- Imagine taking a shower under the open sky and decked with Bougainvillea! The premium studio offers you this luxury and at the same time maintains your privacy. The studio is set in a garden with a sit out that faces a water body.
Windflower Studio- The studio offers you a large balcony to stroll and have a good cup of coffee while you enjoy the picturesque view of the morning mist. Equipped with twin beds, huge bath cube the studios are a complete delight to be in.
Facilities are meant to offer you a fantasy like experience. Each room is fitted with

Free WIFI
DVD player
Cookie and fruit hamper
High grade toiletries
Air conditioner
Hypoallergenic duvets
Electric kettle and beverage facilities
Electronic safe for your valuables
More than 25 indulging SPA treatments
Outdoor swimming pool
Duck pond with ducks
Bicycle for rent for you to opt a healthy close range sight seeing
A room for activities
For business meeting a well-equipped conference room
A well-equipped board room with modern amenities. Available free for big group meetings
Beautiful banquet hall perfect for weddings and parties
For cultural programs and functions an amphitheater is available
Business center is let out complimentary for resident guests

Dining experience at Windflower is extremely out of the world. It's authentic, lavish and scrumptious.

You can binge at the multicuisine restaurant- Olive Garden, a fine open air restaurant
Dive in for some tapas platter under the Gulmohar tree at the vineyard
For the diet conscious, send out your diet chart to the chef and it will be well taken care of with lot of tender love and care by the chef and the service crew
Take advantage of wholesome meals as per your requirement and schedule

Windflower doesn't just pamper you to be lazy but also gears you up to enjoy the picturesque and plenty attractions Mysore has to offer. The activities at windflower will wipe away your lazy feeling:

Indoor games like Pool room, carom boards, Scrabble, monopoly, table tennis, family face off and more keep you occupied
Out in the open you can enjoy a game of badminton or cricket
Health outings' on request

Yoga classes for meditation and rejuvenation
Mysore heritage walks during the day or special night walks with group or pair
Bicycle rides to the hidden paths of Mysore

Tariff at Windflower is in par with any niche star hotel. However you can enjoy offers and enjoy your stay during different seasons when Windflower unleashes its festive or seasonal discounts.

Multi resort packages
Monsoon Package discount
Sizzler during monsoon –package
Winter seasons discount package
Discounts on Spa services
When you visit Wind Flower Resorts & Spa Mysore, you are greeted with a welcome drink, escorted to your room set with complimentary biscuit and chocolates, offers on hot and cold beverages, use of swimming pools, games, hour long jungle session so on and so forth. The windflower at Mysore offers you not just accommodation but an experience that makes the journey memorable.