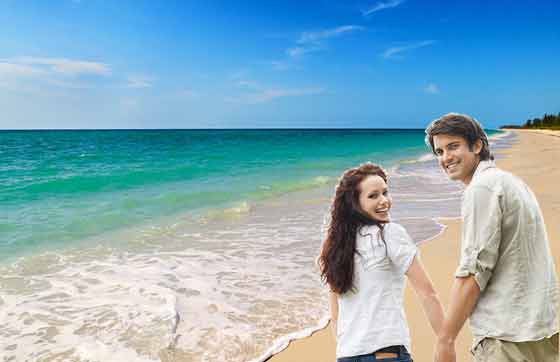 Kerala is a state of endless wonders. For its elegant natural beauty and unique freshness, people call it the God's own country. Honeymoon in kovalam beach with stunning nature with its beautiful blue beaches, fresh backwaters and lush green mountains makes Kerala a place for Honeymooners. Kovalam is one such place along the shore of Arabian Sea. Couples from various parts of the world come here to spend their Honeymoon.
Uniquely Romantic:
Kovalam is a beautiful beach town along the shore of Arabian seanear Thiruvananthapuram city in Kerala. This only international beach of India is located around 16kms away from the city. The naturally set romantic environment gives an unmatched experience for you and your newly married love of life. As the time passes, the beach unravels its unique beauty making your Honeymoon filled with romance and love.
The Crescent formed by the three beaches:
Kovalam is an amalgam of three dazzling golden beaches. They together makes a picturesque location for couples to have quality romantic time.  The three beaches are:
The light house:
In the extreme south of Kovalam lies the Light house beach. It is the most visitedbeach amongst the three. The prominent feature of the beach is an old lighthouse on top of the Kurumkal hillock. Couples can climb up this little hill and enjoy the view of shimmering Arabian Sea. There are several other beautiful romantic spots for the couples to make Honeymoon in Kovalam beach the best romantic trip of their lifetime.
The hawa beach:
The Hawa beach, which is also known as eve's beach is a fun filled energetic beach with a beehive of activities. Food loving couples are treated by the local fishermen withfreshly prepared seafood.As the night pours in, the moonlit beach becomes a romantic paradise for couples to share and express their love. Honeymoon in Kovalam beach just gets better under the light of moon.
The Samudra beach:
This relatively less crowded beach is for couples that search for some privacy and calmness away from crown. Samudra beach doesn't have tourists thronging, yet it is no low than the other beaches. Couples can spend quality time admiring the shimmering beauty of the sea and also sit together to witness the romantic golden sunset. Romantic walks, Sunset and beach games makes your Honeymoon in Kovalam beach fun filled.
Richness at its best:
Not just beaches, Kovalam is also rich in tradition. Couples can get themselves pampered in the state-of-art ayurvedic spas. They can also indulge in shopping some traditional handmade items to cherish their Honeymoon forever. Kovalam is filled with endless possibilities.
Experience this land of beauty with your love of life. Book your Honeymoon in Kovalam Beach now.