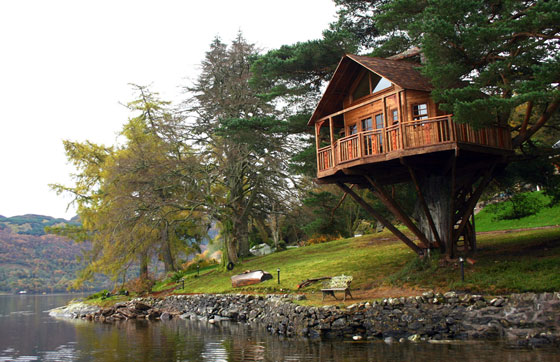 Known for its salubrious climate Kerala is not just about Munnar's majestic hills or Kovalams Shallow beaches. Kerala has so much more to offer to its visitors that every experience will be one of its kinds. The culture, the natural ambience, exotic wilderness, serene backwaters so on and so forth make Kerala an exceptionally delightful place to spend a leisure holiday.
Every newlywed couple seeks a unique experience out of their honeymoon trip. Kerala with its gamut of options offers you experiences of different sought. But the one experience that will leave you awestruck is the unique option of spending your honeymoon in the wilderness. Imagine staying in a well set honeymoon on tree houses
Tree House
Tree houses were and are the way of living in a home by some tribes of Amazon. A world completely apart from civilization, this tribe spends their day and night on houses built on trees that include eating, cooking, sleeping and the other chores.
In modern civilization tree houses were meant for kids to play. Tree houses have certainly been a favorite with kids.
Taking this concept of the tribal style living and kids entertainment facet, Kerala tourism board has left no stone unturned in making sure that these tree houses actually provide you niche comfort and convenience making your stay extraordinarily splendid.
Kerala Honeymoon on tree houses
Words cannot describe how amazing and unique the experience of staying in a tree house can be. Besides being inexpensive they create the perfect ambience of being in love. It's romantic in all possible manners. A stay in the tree-house can set your imagination run wild. In complete seclusion from the world, your only visitors are the beasts of the wild offering you an easy glimpse of them. How often do you get to see the wild so close? Seldom does the opportunity of watching deer come so close to your home takes place in real!
Some of the locales in Kerala offering this out of the world stay option are
In order to make your stay comfortable offering you an experience of the wild but loaded with amenities the tree houses also come available in different types:
Tree house resorts
Tree house stay (similar to homestay only on trees/ sharing basis)
Tree house honeymoon special
Tree house facilities and amenities
What you seek in your rooms in a regular hotel on ground, treehouses of Kerala offer the same on tree.
Trees come with a balcony
An attached bathroom
Telephone facility
Stocked mini bar
Comfortable beds
LCD TV with satellite channel
Room service on tree top
These tree houses are often made with bamboo. Spiraling stairs are made to make reaching on top easy. Safety measures have been taken care of extremely well. Since you are in the wild staying on a tree top efforts have been put to avoid hampering the natural setting but still warding off the insects the natural way. A honeymoon experience on treetop with a mind-blowing view, polite visitors, songs from the chirping birds and mainly the experience of staying on tree- It can't get any more romantic.
A honeymoon stay on the tree top in a tree house is one to cherish and remember for it is an experience that will stay with you for a long-long time.