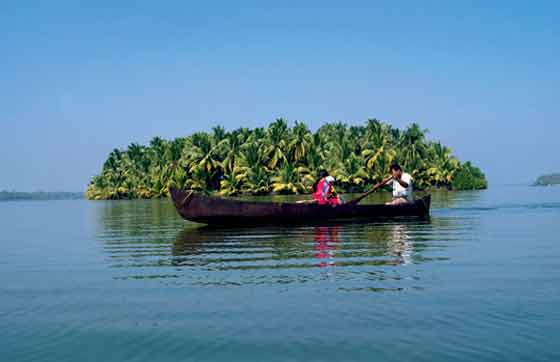 Backwaters of Kerala have placed Gods own country on the global map. Kerala backwaters honeymoon tour package has been a hot seller appealing to several honeymooners. The backwaters of Kerala carry a mystical charm that instantly take you to a world of trance. Kerala backwaters honeymoon tour package is absolutely interesting, romantic and offers a unique honeymoon experience.
What to expect in Kerala backwater honeymoon tour
Children taking a dive in the backwaters
Picturesque view of fishermen catching fish
Brackish water.
Appealing lagoons and coconut grooves
Beautiful serene surroundings
You can befriend the locals and try hands at fishing too.
Savor the local dishes served on the kiosks set up on the banks of the backwaters
The narrow canals and lagoons leading to villages inside
Tall towering coconut trees
Coconut palms serving as a canopy over the backwaters
Beautiful and entertaining houseboat cruises
Places to enjoy backwater cruises in Kerala backwaters honeymoon tour package
The prime places where you can enjoy the natural and calm settings of Kerala's backwaters are Kumarakom, Alleppey, Kollam, Kasargod and Malabar. Backwaters have naturally dominated the land of Kerala and have attracted tourists from across the globe. The houseboat cruises have added to the backwaters as attraction. Kumarakom, Alleppey and Kollam are three prominent places where you can enjoy a romantic cruise on the backwaters of Vembanad that stretches from Alleppey through Kumarakom.
Things to do in Kerala backwaters honeymoon tour package
Kerala's backwaters serve as a perfect bed for several interesting things to do. Kerala backwaters honeymoon tour package will leave you with several things to do and enjoy
You can hire a canoe and try canoeing
Hire a paddle boat and head out for paddling
Take a ferry ride that are frequenting plying
Enjoy a houseboat cruise
You can enjoy your honeymoon tour package cruising in a luxury houseboat or

A modest bund houseboat that uses a long oar to be moved around the backwaters.Share a ride with locals on their catamarans or cargo boats and explore the villages settled on the banks of the smaller canals.
Head out for bird watching in Kumarakom in a boat. This is ideal for nature lovers and bird watchers.

If you are good at swimming try that
Take lot of pictures, the natural environs of Kerala make for idyllic picture moment.
The backwaters of Kerala have a mystical charm about their appearance. The swaying coconut palms shadowing the backwaters playing hide and seek with the sun rays offer a surrealistic touch to the façade but it's all real. The cruises on these backwaters make the entire honeymoon experience mind blowing. TO cruise away into bliss and to not have to worry about the mundanity of your routine life but only the new life you are about to start – that's the feeling you will get from the cruises on the backwaters.