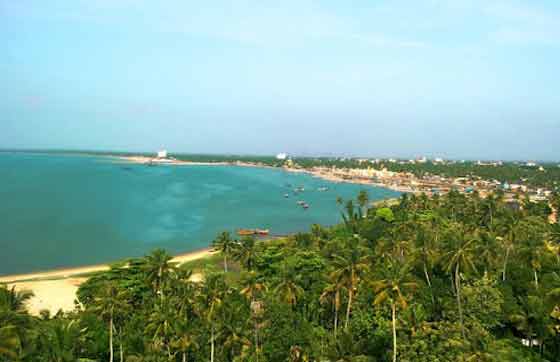 An international emporium of trade, Once Kollam used to be a successful commercial center. As a matter of time Kollam remains an extremely important commercial center in Kollam. Easily linked by rail, road and backwaters the town of Kollam is easily reachable and accessible. It's a popular saying about Kollam that once you visit Kollam you will not see the need to go home. Besides being an important trading center, Kollam is the headquarter for Cashew development in the state of Kerala. You can be sure to grab your hand son some locally prepared toddy out of cashew.
Kollam has been an equally hot spot destination for honeymooners. There are so many places of attraction to visit and explore that your Kollam honeymoon tour will be nothing less than an exciting trip you will cherish for time immemorial.
Kollam Backwater Honeymoon cruises are equally popular as it is in Alleppey and Kumarakom. After all the edge of the town meets the famous Asthamudi Lake.
At about a distance of 26 kilometers from Kollam city the "Green channel backwater resort" at Alamkadavu makes for a beautiful stop for both foreign and Indian tourists. The vast spread of coconut palm adds to the beauty of the resort. Comfortable accommodation, delicious multi-cuisine food, houseboat cruises, ayurvedic rejuvenation treats, true experience of village life so on and so forth all make for a splendid stop over for honeymooners in Kollam tour package.
Kollam honeymoon tour offer you a comprehensive tour of all things beautiful and places of attraction in Kollam. Kollam For some holistic start couples can head straight to Achenkoil. The Sastha temple attracts pilgrims not just for the religious temple but also the picturesque surrounding that offers tranquility and peace of mind.
Amritapuri is a religious center that teaches that the whole world is one family. This is an ideal destination for couples to start a journey with holistic fervor.
Palaruvi waterfalls is a famous go to destination near Aranyakavu
An attractive village Sasthamcottah is home to the largest freshwater lake surrounded by hills and a bund separating the lake from the neighboring rice fields.
A place of historical importance, Thangassery is known for pretty old churches. A lighthouse built in 1902, the 144 sqft tall lighthouse has stood the ravages of time and today serves as a prime tourist attraction. Punalur an industrial center of Kerala is known for a suspension bridge that has gained a lot of archaeological interest. Suspended across the Kallada River since 1877, the 400 ft. long bridge has earned a lot of attention and attraction for all the visiting tourists.
A small hillock Pachilakunnu, is another main attraction of Kunicode
Kollam has several places of attraction and interest however it is the backwater cruises that make Kollam a picturesque place for honeymooners to head to in Kerala tour package or Kollam honeymoon tour.