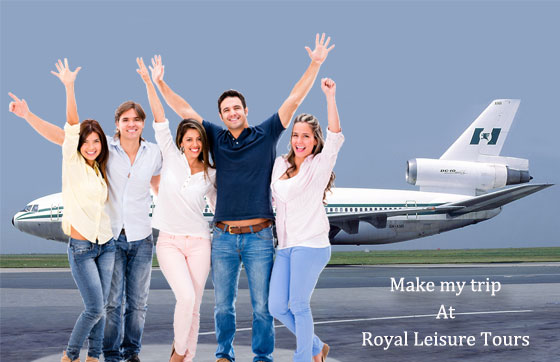 You are looking forward to a relaxing holiday but planning for the holiday itself can take a toll on you and drive you crazy. The myriad question of what to take along and what not to take along, what type of food you might get , how you would travel so on and so forth can leave you perplexed. Make my trip platform of Royal Leisure Tours is the best way to create your own itinerary for your awaited tour.
Most often when you approach a travel expert they do offer customized package which may or may not cover the places of your choice. Therefore Royal leisure tours have brought the banquet of trip planning to your table. You can handpick the places, activities, food and all the other activities according to your needs only.
You can relax and take all the time you need to plan your trip at your cost. Make my trip allows you to avoid pushy travel package sellers, solicitation calls offering holiday deals and more.
The advantages of making your trip plan are plenty.
You can select or omit places of your interest.
You can customize the plan according to your budget
You can choose the vehicle type
You can choose your food preferences
You can add or remove adventure activities, romantic places or kid friendly places
You can choose hotels of your preference
You can book for rejuvenation services within or outside the hotel
You can customize the list of places you wish to visit according to your likings.
How to make use of make my trip
Pick up the phone right away and call travel experts from Royal leisure tours. Tell the experts you wish to make use of make my trip option and you will be guided with a list of options that will include
Choice of places
Choice of food each place has to offer
Choice of travel mode
Type of holiday package
Coupons
Discounts
Hot sellers
Budget deals
Luxury packages
Beach, adventure, family trip so on and so forth.
Royal leisure tour experts will offer you a form for you to hand pick the options and make your own package. You can then handover the list to our experts for them to process your request and get you a holiday deal that you like.
Make my trip bus
Planning a bus trip also calls for some planning. Travelling in a state transportation bus is not a choice definitely for any holiday seeker. At the same time knowing the type of bus you will be travelling in will make your trip pleasant and comfortable. There are buses that have features like that of a luxury plane and some just enough amenities and facilities to make your trip comfortable. You can plan and choose a bus of your own choice to make your trip exciting and comfortable.
Choose from private buses, mini buses, Volvo, deluxe, super deluxe, caravans,
Choose your preferred seat ( window or side)
Choose a sleeper bus or seater
Choose the bus route ( longer drives or shorter point to point buses with lesser stops)
Make my trip train
Train trips are the most preferred by travelers from all walks of life. Train trips are the best suited for High end. Budget or economy plans. You can choose the compartment types, berth, seats etc. as per your choice.
With make my trip option you can Now create a personalised timetable that meets your needs. You need to enter your journey details in the form below and travel experts from Royal leisure tours will assist you with the train timings or the closest date possible depending on the availability of seats and train timings.  Our experts can get the time able emailed to you. All you need to do is save it to your computer or take a print later at your convenience. Doing so offers you the convenience of your travel plan at your fingertips.
All you need to do is to remember to check our Travel updates page before you plan or head out on a tour. Our experts can provide assistance, in case of any unforeseen circumstance.
It is important that you are aware that the personalised timetables are for train journeys only. Train trips make your travel experience very unique. You can choose
Upper, lower or middle berth
You can choose the side berth
You can choose your seat in first class, second class sleeper A/C
There are seats available near the toilet too- now you wouldn't want to spend your trip near the toilet – would you? Therefore get your train trip personalised too.
Make my trip on flight
Round the world trip, multi destination trip, so on and so forth it is not that hard to decide what you want if the choices laid before you are right.
All you need to do is to call travel experts from Royal leisure tours and get started on your planning process for
Around the world tickets
multi destination flight
right time to book flight tickets
plan a travel budget

economy trip
business class trip
Flight discounts
Choose your own airline, route and make any changes you want depending on the sudden change of plan you might face. Travel experts from Royal leisure tour will help you
Choose any route you prefer. There are no rules or regulations to hinder your trip. If you wish to go back and forth to a particular place" N" number of times you can do so with complete ease.
Our travel experts are well connected with most airlines. You can be rest assured to get yourself the best deal in the best flights and flights of your preference to enjoy that round trip
IF you decide to make a detour and wish to make any changes with your existing flight travel plan- call our travel experts to get that done for you. You can relax and enjoy your original trip or changed plan trip without having to go through the hassle of rebooking, cancellation or any challenges with regards to your plan change.
Try planning your flight trip and if it doesn't drive you crazy then call our experts and make you flight trip an enjoyable and relaxing one.
Receive the best customer support, check out our travel insurance details and avail the best deals you can imagine. Make my trip enables you to customise your travel options along with your choice of destinations by saving your time, providing you efficient and reliable options.
Make my trip coupons.
Once you've enjoyed and experienced our professional service then make sure you leave us your feedback. We will constantly strive to work towards making our services better and convenient.
Make my trip offers you the choice to bundle your own coupon. You can choose what you wish to avail in the coupon and based on the package you used with us, we will work out a percentage and offer you your own customised make my trip coupon.
You can refer your friend and avail more benefits with your customised coupon. Your friend too gets to enjoy the benefit of customising their own holiday or tour package.
You can use your customised coupons in the next holiday trip you plan.
You can use an assortment of places and activities to make your coupons suitable and beneficial for you.