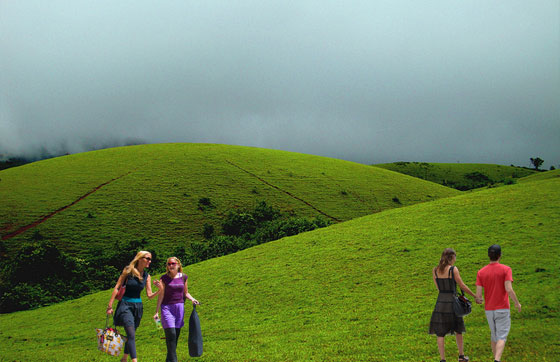 A serene hill station situated in the border of Kottayam and Idukki.  Vagamon honeymoon tour packages are least touched by maddening tourism. The beautiful, pleasant climate of Vagamon makes it an ideal honeymoon destination in Kerala for honeymooners to spend time in the warmth of each other. Discovered by the British, Vagamon served as a perfect place for tea plantations. The English missionaries found Kurisumala ideal to set up their worship place in addition to being responsible for the spread of tea plantations.
What to expect?
At Vagamon you can expect to be close to nature. There are hardly any vehicles running thereby causing least amount of pollution. The air is clean and fresh and instantly rejuvenates your mind, body and soul. The beautiful tea plantations add to the scenic view of Vagamon.
The sudden formation of mist adds to the mysticism of the place. Vagamon has not seen a lot of commercialization hence it remains a place true to its original form. There are amenities and facilities available that make your stay comfortable but it also possesses a lot of originality that sets it apart from other hill stations in Kerala.
Attractions and things to do
Vagamon honeymoon tour packages offer several adventure activities and enjoy sightseeing. Some of the things to do and places to visit are:
The hillocks appear beautiful and green. They do not have towering trees but a spread of green carpet that adds to its majestic appeal. They serve as a perfect terrain for a trek or hike with your partner. The changing weather, chillness and quietude of the place will gear you up and make you warm and excited with the trek trip you plan.
The mountains also serve as a perfect place for mountain climbing. Mountain climbers find the mountains here challenging enough to plan a climb.
Paragliding has been introduced to add to the adventure activity list here. So far the sport has proven exciting and very entertaining.
The orchids at Vagamon are attractive and make for a good view
The Kurisimala ashram and church are interesting places to visit especially if you wish to offer your prayer at the church, a visit is recommended.
Surreal Vagamon
Vagamon has a slopy finish on both sides with goodconnectivity t the plains. The drive upwards towards Vagamon is absolutely exhilarating. The hill slopes are almost inaccessible hence the drive can be extremely adventurous and will leave you with an extraordinary travel experience. The pine forests make for a beautiful view. The roads that lead to Vagamon hold a very touching story about the workers who were responsible for the laying of the road. There is a twenty foot tall tower that stands as a memorial in honor of those who lost their life in an attempt to complete this road. The memorial itself makes for an interesting watch.
Accommodations
Vagamon has several well set resorts in the neighboring areas that make for a comfortable accommodation for trekkers, leisure travelers and honeymooners. Vagamon is also locate very close to other interesting tour destinations in Kerala like Thekkady, Peermade and Kulamavu- Honeymooners can head out to these places after a unique honeymoon experience at Vagamon honeymoon tour packages.